equality
Women Still Left Behind in Latin America's Investment Funds
By
A minority are female-owned, most have no women in top jobs

Only 11% have strategies addressing minorities: UN survey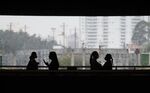 Women comprise the majority of the work force in Latin American funds, but just a fraction of them achieve senior decision-making positions and an even smaller number own money-managing firms.

Only 37% of 28 funds surveyed had women in top management roles and just 25% were majority-owned by them, according to a study released Wednesday by UNWomen and the consultancy firm Value for Women. More than half of the funds are also not taking specific actions to recruit and promote female professionals.
Public commitment toward investing with social and gender lenses has grown in the industry, but only 43% of the funds had specific targets to include businesses led by women in their portfolios, the survey found.