Biden Prepares to Make His Mark on the Fed
Jay Powell is the front-runner for another term as chairman, but Democrats could push for Lael Brainard and other key appointments.
By and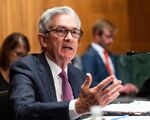 Joe Biden will soon get a chance to shape the Federal Reserve into an instrument better able to deliver on his vision of a more inclusive American capitalism. The seven-member Fed board will soon have four vacancies, including the chair occupied by Jerome "Jay" Powell, who is said to have broad support among Biden aides but is not assured of a second term. A decision isn't expected before September at the earliest.
There's a lot that Democrats want from these appointments, from tougher regulation on banks to more attention to climate change. What matters most to the president's goals of spreading the economy's benefits more widely, however, is ensuring a vigorous recovery. Black people and other minorities were late to reap the fruits of the record-long expansion that followed the last crisis, in terms of employment and wage gains. Biden and his economic advisers want to make sure they're not left behind once again.
The central bank, though independent, is subject to congressional oversight, and the president's nominations require Senate confirmation. Powell, who was put at the helm in 2017 by then-President Donald Trump, oversaw an overhaul of the central bank's strategy and won bipartisan praise for his rapid and sweeping response to the Covid recession. But some powerful progressives in Congress don't like his track record on regulation and could swing their support to the one Democrat on the board who's opposed Powell on matters of big bank oversight—Lael Brainard. Alternatively, they might settle for pairing Powell with a more aggressive vice chair for supervision when Randal Quarles's term in the role expires in October.

Vice Chair Richard Clarida's time is up in January, a few days before Powell's own tenure as chair ends in early February. Both slots, plus an open board seat, are opportunities to appoint Democrats who reflect Biden's priorities while also advancing his goal of achieving greater diversity at the central bank.
One consideration for Biden is the precarious state of markets and the economy right now. Low interest rates have reignited Congress's appetite for spending, raising government debt by about $5 trillion since the start of 2020. And risk-taking has spiked, with money pouring into meme stocks and Bitcoin, while a hot housing market fans fears of another bubble.
Inflation is running higher than it has in more than a decade, but worries about Covid's delta variant are pushing investors into bonds out of concern the recovery could falter. Unemployment remains lofty, yet companies complain of labor shortages. The Fed is also midstream in a strategy change instigated by Powell to deliver the benefits of a strong job market more broadly, which chimes with Biden's goals. With all these crosscurrents, there's no shortage of economists, traders, and members of Congress who say: Just reappoint Jay already. "Continuity is very important," says Laurence Meyer, a former Fed governor. "He has been an extraordinarily good chair, transformational in many ways, and he has the trust of the policy committee and the trust of the markets."
Investor reliance on Powell's deft touch was visible on July 28 after the Fed announced it had begun talking about scaling back its massive bond purchases. The 30-minute period between the Fed's statement at 2 p.m. and Powell's news conference saw 10-year Treasury prices fluctuate sharply—before he clarified that officials were still a ways away from starting the process, restoring calm.
Sarah Binder, a political scientist at the Brookings Institution, sees the calculation by the White House differently. A robust economy is part of what's necessary to extend the governing party's control, she says. "These appointments are not rewards for past performance," she says. "Presidents in their first term want to get reelected. They are thinking prospectively: Who is going to put the economy and my electoral prospects and my policy goals on the best foundation for success?"

A Washingtonian by birth and an astute observer of national politics, the 68-year-old Powell has won allies on both sides of the aisle on Capitol Hill with his relentless outreach to lawmakers. As a result, his rapport with progressive Democrats such as California Representative Maxine Waters, chair of a committee that oversees the Fed, is as natural as it is with traditional Republicans such as North Carolina's Patrick McHenry, the ranking member on the House Financial Services Committee.
One reason Powell has been so effective at the Fed and on Capitol Hill is that he doesn't fit neatly into Washington's power pigeonholes. He's a wealthy former private equity executive at Carlyle Group Inc. but doesn't act like one. He's personally canvassed small business owners, labor organizers, and community leaders to find out what they think about the central bank's dual mandate of stable prices and maximum employment. And earlier this year, he said he planned to visit the tent cities that have sprung up near the Fed's headquarters in D.C. Explaining why he's interested in talking to the homeless, he said: "What you find out is, they're you. They're just us."
While Powell enjoys broad support among top White House advisers, officials are keeping an open mind about how the administration can put its stamp on the central bank, people familiar with the matter told Bloomberg. Yet there are prominent Democrats who don't think centrism at the Fed is what's needed now, particularly in regulatory policy. Powell has overseen multiple changes in the name of efficiency that have riled Senators Sherrod Brown (Ohio) and Elizabeth Warren (Mass.), who, as members of the Banking, Housing, and Urban Affairs Committee, both have a vote on whomever is nominated as the next Fed chair. "I see one move after another to weaken regulation over Wall Street banks, and that worries me," Warren told Powell at a July 15 hearing.

Powell's votes contrast with those of Brainard, the only non-Trump appointee on the board. She's issued pointed dissents on numerous occasions, including in May when she opposed a bank merger, saying "commonsense safeguards have been weakened." Brainard's competence in economics is unquestionable, and she would appear to be the candidate who most satisfies Brown and Warren on regulatory matters. Moreover, she's found a path to address climate change through the Fed's financial stability mission, and has advocated for rules and guidelines that would make the financial system more inclusive. "Given the central bank's significant regulatory and supervisory powers, left-leaning voices in the administration likely will not want a Republican like Powell to remain chair," Michael Feroli, chief U.S. economist at J.P. Morgan, wrote in a July 21 note to clients. "We see a significant chance that Powell is not nominated," and if so, "Fed governor Brainard is the most likely replacement."
One question hanging over Fed succession is whether Biden cares about broad bipartisan support for the nominee. Brainard could attract a lot of Republican opposition compared with Powell in a Senate in which Democrats hold only 50 of 100 seats.
Although Powell is the first Fed chair in decades who wasn't formally trained in economics, some see that as one of his strengths. Claudia Sahm, a former Fed economist who used to brief Powell, says that because he wasn't a Ph.D. he didn't "have to unlearn" economics, which made it easier for him to challenge the discipline. At his first speech as chair in 2018 from the high pulpit of central banking—the Fed's annual policy retreat in Wyoming's Jackson Hole—he took aim at some of the bedrock assumptions in economics that were failing to deliver on the Fed's mandates.

Under his predecessor Janet Yellen, an economics Ph.D. who's now Treasury Secretary, the Fed raised interest rates from zero in 2015 in a bet that a gradual increase in borrowing costs would land the economy at the Fed's 2% inflation target within three years, without sacrificing full employment. Instead, inflation remained stubbornly below target even as unemployment dipped to 3.9% at the end of 2018, suggesting the Fed's rate-setters could've allowed the economy to run hotter and pulled even more Americans into jobs without sparking price pressures.
The forecast misses created a wave of introspection among the staff, says Sahm, giving Powell an opportunity to shake things up. Under a revamped policy framework unveiled in August 2020, Fed officials said they would let inflation run over the 2% target for an indeterminate time to make up for periods in which it tracked below that. They also committed not to prejudge the level of maximum employment using a standard measure, relying instead on a more comprehensive array of indicators. "The shift from forecast-based monetary policy decisions to outcome-based monetary policy decisions is a radical shift," says Sahm, now a senior fellow at the Jain Family Institute.
So radical, in fact, that the Fed's monetary policy committee has divided over the matter as inflation risks have mounted. Thirteen officials wanted the central bank to raise interest rates by the end of 2023, according to forecasts it published in June. Just five officials projected they should stay on hold near zero through 2023. The forecasts are anonymous, but Powell has been clear that he's in no hurry to raise rates, saying in June that even discussing lifting rates from near zero "would be highly premature."
The chair's job is to forge a consensus, but that gets harder when officials are split on the way forward. "This will be the first time in years when the Fed chair is up for renomination when policy is not on a very clear trajectory," says Roberto Perli, head of global policy research at Cornerstone Macro LLC. "Just for that, it is risky not to renominate him." —With Saleha Mohsin, Nancy Cook, and Jennifer Jacobs
BOTTOM LINE -
Upcoming vacancies on the Fed's board of governors will allow Biden to put his stamp on an institution that could play an important role in advancing his agenda.
Before it's here, it's on the Bloomberg Terminal.
LEARN MORE