Finance
ESG Investors Question Their Own Methods After Grim Climate Report
A landmark report from the IPCC prompts leaders in sustainable finance to consider a longer-term focus and new ways to measure investments.
By , , and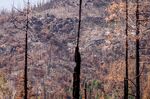 The damning United Nations report on global warming delivered a reality check for the investors betting that markets can limit the damage.
The assessment by the Intergovernmental Panel on Climate Change, released on Monday, should prompt investors to "review their commitments to tackling climate change and to take action," said Fiona Reynolds, chief executive of the UN-backed Principles for Responsible Investment.