Finance
Using Artificial Intelligence to Sniff Out Corporate Greenwashers
GreenWatch is a new tool for investors worried that some sustainability claims are too good to be true.
By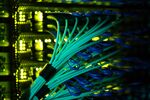 Sign up to receive the Bloomberg Green newsletter in your inbox every weekday.
Barely a day goes by without a company talking up their green credentials—how they're aligning themselves with global climate goals, cutting waste and upping their recycling. With all this corporate happy-talk about saving the planet on the rise, so are concerns about greenwashing.