Finance
Venture Capital Veteran Sacca Returns With $800 Million for Climate Tech
Sacca launches four funds through a new vehicle, Lowercarbon Capital.
By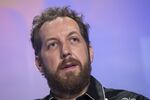 Venture capitalist Chris Sacca is launching four climate tech funds worth about $800 million in total through his new firm Lowercarbon Capital LLC.
"The idea that a relatively small amount of money could be a huge lever in confronting this crisis, I love that," he said.