Finance
Insurers Can Afford to Drop Oil and Gas—But Many Won't
A new analysis from Societe Generale shows that covering the biggest perpetrators of global warming is also bad for business.
By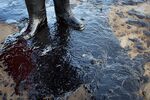 Sign up to receive the Bloomberg Green newsletter in your inbox.
For the insurance industry to fulfill its stated commitment to combat climate change, it may want to accelerate its efforts to exit the oil and gas industry.