Finance
What Smart People Get Wrong About Climate Change Extremes
There isn't enough appreciation of the risks associated with new weather patterns we don't yet understand.
By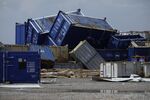 Sign up to receive the Green Daily newsletter in your inbox.
If anyone should be attuned to the real-world impacts of global warming, it's the policy makers and business heads that have to deal with the fallout. But even the most well-intentioned can fail to grasp just how bad things could get if climate goals aren't met.