Finance
Vanguard Comes Up Short on the Climate Front, Think Tank Says
The asset manager could lose $3 trillion by 2050 from its U.S. equity investments by failing to act on climate change, according to a new report.
By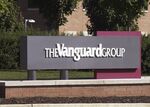 Sign up to receive the Bloomberg Green newsletter in your inbox.
Vanguard Group Inc., one of the world's largest money managers, says it cares "deeply" about the long-term impact of climate change. It joined an investor group that's announced a net zero-emissions target and oversees pension funds for technology companies, where employees have a long tradition of being environmentally conscious.