Finance
Aviva, Tesco Want U.K. to Mandate Corporate Net-Zero Plans
A coalition of British businesses wants the government to force big companies to disclose how they plan to slash emissions.
By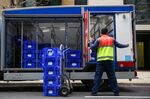 U.K. businesses have teamed up with investors managing over 4.5 trillion pounds ($6.1 trillion)  to urge the government of Prime Minister Boris Johnson to force corporate Britain to disclose net-zero emissions plans.
The group, which includes Aviva Plc, BT Group Plc and Tesco Plc, has written to Chancellor of the Exchequer, Rishi Sunak, and Secretary of State for the Department of Business, Energy and Industrial Strategy, Kwasi Kwarteng, requesting that mandatory disclosures of net-zero transition plans be introduced by 2025, according to a statement on Monday. They also want the government to develop official guidance on what a credible transition plan looks like.