Pursuits
EXPLAINER: Guns on Movie Sets: How Does That Work?
THE ASSOCIATED PRESS (LINDSEY BAHR)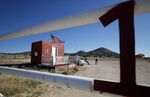 (AP) -- Cinematographer Halyna Hutchins died Thursday after Alec Baldwin fired a loaded weapon that was handed to him by an assistant director who mistakenly believed it was safe to use on the New Mexico set of "Rust." Director Joel Souza was also hit and injured but has since been released from the hospital. While many things still aren't known — police are investigating — the AP looks at the use of firearms on film and television productions and the safety protocols in place.
WHAT IS A "PROP FIREARM"?