Critic
Beyond Cookbook, Black Food Bears Witness to Vital Culinary History
More than just soul food.
By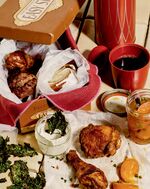 I thought I knew Black food—collard greens with ham hocks, cornbread, okra, yams, chitterlings, biscuits. These were staples at family gatherings, big and small, when I was growing up. But sometimes you don't know what you don't know. Reading Black Food: Stories, Art, and Recipes From Across the African Diaspora, I discovered the genesis of my food culture, which, like blues music, finds its roots in African tradition, migration, and, yes, suffering.
It's more than a recipe book. In the introduction, Bryant Terry, a James Beard Award-winning cook and chef-in-residence at the Museum of the African Diaspora in San Francisco, calls it a "communal shrine" to food culture that's arisen from the Black experience. There are poems, playlists, and essays that bring together insights from around the globe. In one, upstate New York farm director Leah Penniman explains how West African women hid seeds—for black-eyed peas, rice, melon—by braiding them into their hair before being forced onto trans-Atlantic slave ships. In another, British-Nigerian novelist Sarah Ladipo Manyika uses jollof, a one-pot rice dish, as a starting point for a meditation on writer Toni Morrison.