Pursuits
The Water in the Best Bagels and Pizza Is Now Going Into Whiskey
Great Jones Distilling Co. taps the aura of New York City's municipal water supply.
By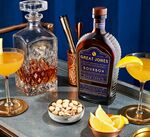 A whiskey can express its provenance in myriad ways, from the flavor of the malt used in production to the story sold on the back of a bottle. For Great Jones Distilling Co., which opened in August as Manhattan's first legal whiskeymaker in more than a century, it's all in the water.
Connoisseurs of New York City's beloved bagels and famous pizza pies have something to say about this. What pours out of the tap here is a "hard" water, they'll tell you, lower in calcium and magnesium and higher in limestone and pH than the national average. This particular chemical composition gives birth to a lighter, more airy dough—the hallmark consistency of the legendary local carbs.