Collectibles
The Market for Vintage Travel Posters Takes Flight During Pandemic
Armchair tourism meets armchair collecting.
By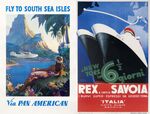 Nicholas Lowry was assembling a collection of travel posters for his Nov. 23 auction when he came across one from 1914 intended for British audiences. Its pitch? "Travel to France," says Lowry, the president of Swann Auction Galleries in New York. "This was printed two months before the First World War," making it one of the last vestiges of peace before the proverbial lights went out in Europe. The "historical showstopper," as he calls it, is estimated at $700 to $1,000.
For years, travel posters were considered "the unappealing younger siblings of French cafe posters," Lowry explains. (Think of Toulouse-Lautrec's work for the Moulin Rouge.) This started to change in the 1990s, when collectors began to appreciate the former's charms. Over the past two years, dealers say, the genre has enjoyed an additional bump thanks to a restless, homebound public that's taken solace in acquiring an image instead of experiencing the real thing.