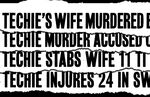 Maniac Killers of the Bangalore IT Department
Why is India obsessed with crimes committed by software engineers?
Prachi Das was murdered on a Monday. The killer, a friend of her husband's named Basudev Jena, showed up at her apartment in Bangalore on March 2, 2015, in hopes she would help him with his debts. Jena hadn't meant to hurt Das, he later told the police, but he lost his temper when she refused to lend him money. He tried to tear away her necklace, and when Das screamed he cut her throat. The landlady stopped him in the hallway as he tried to flee, his shirt stained with blood.
In India, print newspapers thrive as if it were 1995. They're numerous and energetic, and they rush to the scene of a good story. Das's murder was a sensation, and each publication did what it could to distinguish its coverage. The Indian Express dwelt on the meaning of a carton of ice cream found melting near her body, and the Times of India floated an alternate theory of the crime, speculating that Das had screamed because she saw a rat, leading Jena to panic. But all the papers agreed on the overriding importance of a single, seemingly inconsequential detail: Both Jena and Das's husband were software engineers. Or, as the profession is known in India, they were techies.