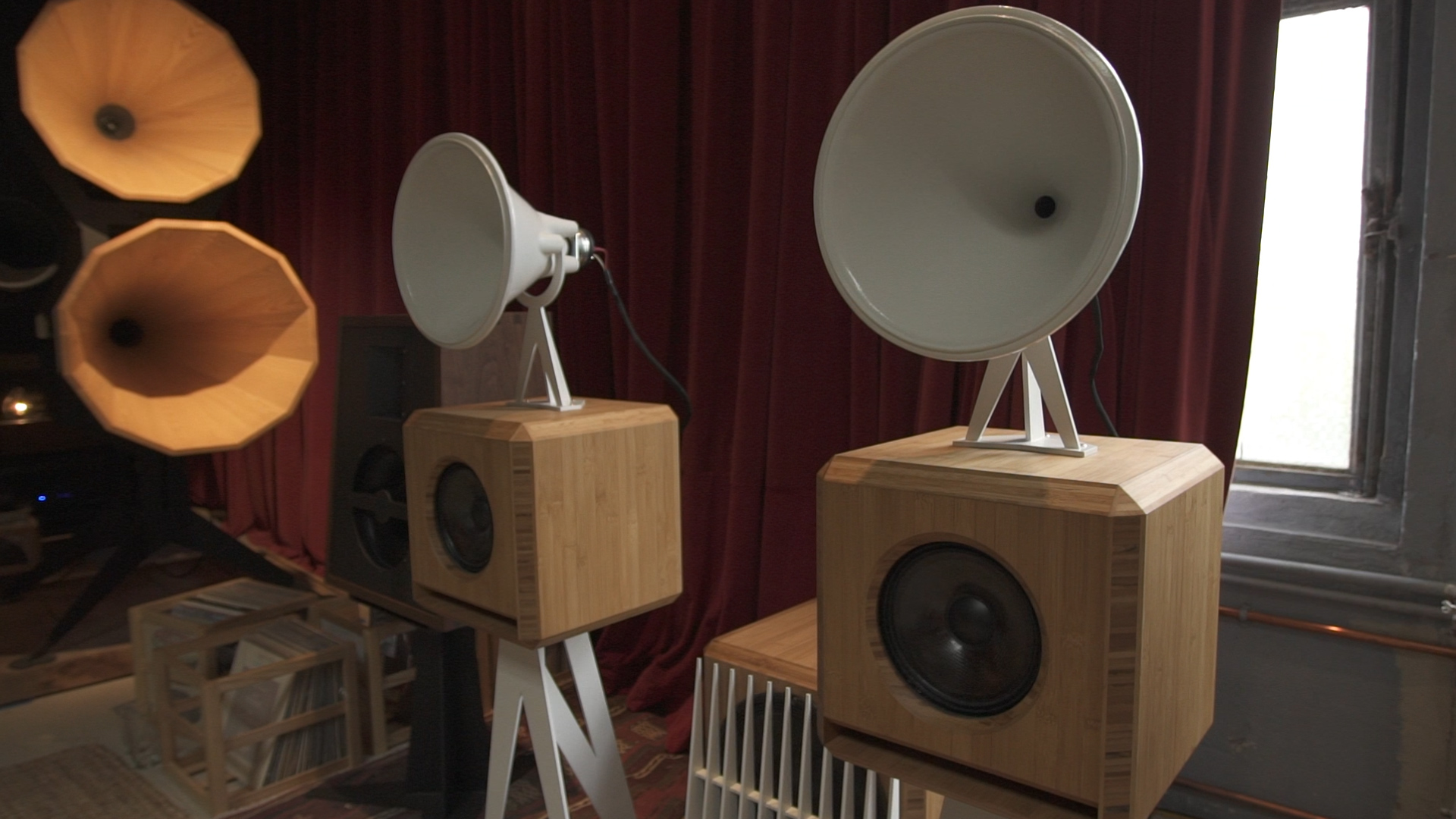 How to Make a Speaker
Oswalds Mill Audio makes $300,000 speakers from wood like ash, cherry, and walnut—plus slate and special cast iron. The sound quality is as good as the materials.
Made is a series of simple, gorgeous short films that demonstrate how everyday luxury objects are made, and honor the process and artisans behind them.
To understand how Oswalds Mill Audio makes some of the most impressive listening equipment in the world, you need to understand where it is made. It says everything about the company's mission and the creative process of founder Jonathan Weiss that its products—including amplifiers, turntables, and, most famously, horn loudspeakers reliant on cones of wood—emerge from a Pennsylvania building that was, two centuries ago, a working mill.

"The mill is sort of a laboratory for OMA," says Weiss, indicating that every day is an ongoing experiment in using ancient materials to construct state-of-the-art gear.
The  10-year-old OMA is based in New Tivoli, northwest of Allentown, in a building built around 1800. Its four-story headquarters represents this continent's only known example of a house-mill, a fusion of industrial and domestic space allowing water to rush through the middle of the building to power the wheel while enabling the miller and his family to live on site.
When Weiss, tipped off by a friend, first discovered the space, he was working as a filmmaker, and he undertook its purchase and renovation with no clear purpose in mind. But he had a longstanding passion for the grand sound systems of old movie palaces, and the building—remotely sited, with two-foot-thick stone walls—eventually struck him as an excellent listening room. He founded OMA to reclaim that listeners' paradise, having connected with retired RCA engineers to learn about their vintage work and gaining an appreciation for the integrity and quality of the old equipment.
"The history of audio is not the history of improving sound quality," Weiss says. "It's actually the opposite. It's the history of audio equipment getting smaller, and cheaper, and more convenient." His painstaking quest for quality has led him to resurrecting old way of working.
"We're looking at technologies—you can almost call them ancient when it comes to audio—that were never surpassed in sound quality."
This is all a bit like a music fan stumbling across a crazy old garage and deciding to form a garage band to play there, and then creating the band's instruments with the use of techniques at which Antonio Stradivari would not turn up his nose. 
The world of high-end audio manufacturing is dominated by specialists—companies devoted to particular components, be they turntables, or loudspeakers, or amplifiers. OMA, by contrast, has the ambition to build comprehensively. And it tends to do so using raw materials sourced near the mill. 
OMA's cast-iron speaker, the Ironic, is cast at a local foundry, and its record players are made from solid Pennsylvania slate. Why? "From an acoustic standpoint, it's really desirable because it is very, very well damped," Weiss says. The slate is fabricated using the same type of water-jet cutting that Boeing uses to slice carbon fiber for the bodies of airplanes. 

In the realm of woodworking, meanwhile, OMA offers something like the audiophile equivalent of farm-to-table dining. "We make everything so that we have total control over the sounds," says Weiss. Call it timber to timbre.
"We make everything so that we have total control over the sounds," Weiss says. They use many of the same woods employed by nearby Martin Guitars—walnut, ash, black cherry, maple, plus chestnut "reclaimed form old bard joists and floors, because chestnut in America has been extinct for 100 years," Weiss says. 
"Everyone's afraid of wood," he adds. "It's much more difficult to work with real wood than with [fiberboard], aluminum, or plastics—what other speakers are made of. Those materials don't sound the same. "

Whenever possible, OMA buys entire trees so that every board matches. It ages and air dries the boards for two years before they go into a kiln for further drying, all prior to being cut into smaller dimensions that take, in the case of the horn loudspeakers, months to assemble.  
The payoff for all this effort—and the justification for price tags that can exceed $300,000—is a sound system so spectacular that it can make a spin of Jailhouse Rock seem like an audience with the King. As Weiss says, "What the system is doing is it's taking the energy that came out of Elvis—literally, sounds waves are energy. It's taking that energy, and it's reproducing it so perfectly that you have this uncanny feeling that somebody is there that's been dead a long time."