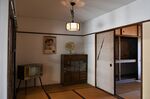 If you think public housing complexes have few fans, a visit to Tokyo might change your mind. In Japan's capital, modernism enthusiasts make pilgrimages to concrete apartment blocks built in its suburbs in the wake of World War II, drawn by the mesmerizing uniformity of their designs.
The attraction of these complexes, known as danchi, is more than aesthetic. These developments embodied the aspirations of Japan's war-weary citizens for better lives, and retain a place in the popular imagination. Fitted with amenities then virtually unattainable elsewhere and a pioneering specification — stainless steel sinks, flush toilets, a kitchen and private bedrooms — people lunged at the chance to pilot this modern lifestyle and participate in a grand social experiment.

The danchi (whose name means "group land")  were not just cheap housing. They were laboratories where the physical and ideological model for middle class families to support Japan's rapid growth were developed. Architects and officials envisioned a reorientation of living space that would house nuclear families, elevate women, promote privacy and encourage consumer lifestyles. Their heyday is past, but danchi remain a testing ground for the intersection of architecture and social change in Japan. Aging and diversifying residents have once again put them on the front line of demographic trends. While several complexes have been demolished, others have been rebuilt or renovated.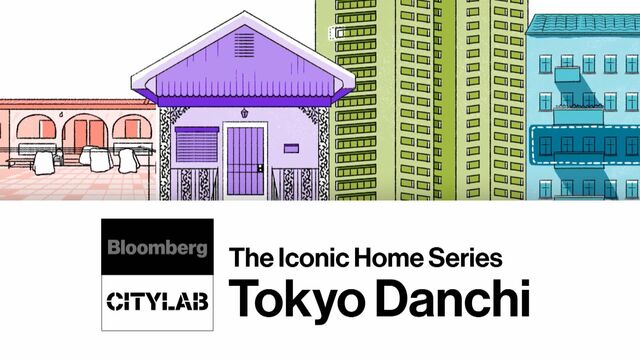 Out of the Ashes
By the mid 1950s, Japan's postwar recovery was stalling in one key area: housing. From a 4.2 million unit shortfall in 1945, the country still lacked 3 million in 1955, according to figures cited in Laura Neitzel's The Life We Longed For: Danchi Housing and the Middle Class Dream in Postwar Japan. To address this issue, the government established the Japan Housing Corporation as the final of three housing policy pillars. The first gave loans to well-off citizens to build homes, while the second provided low-income housing. The JHC would exist somewhere in between — by providing public housing for the blue and white collar workers pouring into urban hubs like Tokyo, who would form the backbone of a new middle class. 

The typical JHC danchi was a cluster of roughly five-story concrete buildings, usually built on the outskirts of Tokyo and other cities, although later developments were significantly taller. Buildings ranged from simple boxes to the iconic Y-shaped "star house",  a triple-pronged tower whose structure offered better natural light and circulation. These complexes were essentially ground-breaking suburban commuter towns, self-contained communities with their own shops, police boxes, clinics and schools. This move out of the urban center changed Tokyo life. Suburban danchi necessitated train lines, initiating long commutes that remain stereotypical of so-called "salaryman" to this day. Yet distance from downtown was part of their initial appeal for occupants seeking escape from urban life, as were prewar associations of suburbia with the middle class.
But the danchi's true selling point was their amenities and floor plans, typically featuring two bedrooms with a kitchen and dining area (known as a 2DK), a model that could be scaled up or down to one or three bedrooms. Later floor plans included an additional living room, creating a template (called an nLDK — LDK for "living room, dining room, kitchen" and "n" short for number, a placeholder for  the number of bedrooms) that dominates Japanese housing today. 

New Homes for New Norms
The designs were a radical departure from pre-war houses, which contained multi-use rooms and a kitchen concealed at the back. Extended families often lived together in these, with inter-generational shared sleeping arrangements commonplace. This, post-war reformers argued, wasn't just unsuitable for modern life but actively reinforced feudal, imperial social structures responsible for the war. Housing thus became the focus for debate on modernizing society as a whole, in which modernist housing played a social engineering role. Uzo Nishiyama, the father of Japanese housing studies, criticized traditional rooms' multi-functionality for allowing patriarchs to surveil family members, advocating an end to co-sleeping to improve hygiene, sexual morality and privacy. Architect Miho Hamaguchi, meanwhile, argued that the kitchen's placement ostracized women.
The DK layout addressed these concerns by making the kitchen central, bringing wives to the home's heart, providing a dedicated space to eat and two private bedrooms. The small size also obliged families to organize as nuclear ones. With independent rooms, they gained a level of privacy so novel Japanese borrowed the English word for it, rendered as "puraibashii."


The DK's success, however, hinged on the introduction of key amenities — chief among them the stainless steel sink, considered more attractive than its concrete predecessor and thus suitable for the newly central kitchen. Lockable metal doors, private baths and flush toilets added to the middle-class allure. This new configuration encouraged the acquisition of new electronics and appliances — and of semi-fixed, western-style furniture. This was uncommon in traditional houses, whose convertible, multi-use spaces required foldable, storable fittings such as futons and low tables to function smoothly. As single-function rooms became the norm, furniture could stay put, meaning that families started to acquire couches, raised beds and dressers. As much as social changes, it was these material lifestyle features that would come to define the ideal middle class family.
"With the danchi, the JHC created and promoted a specific configuration of urban, everyday life that became a prototype of middle-class life," Laura Neitzel wrote. "It became a test bed for the development of housing technology and played a pioneering role in the standardization and modernization of interior living space."

This model penetrated wider cultural consciousness. In 1960, Prince Akihito and his wife visited a Tokyo danchi, cementing the middle-class values danchi symbolized and remaking the imperial image in that light. Families who lived in these complexes were called the "danchi tribe" as they tended to be a fairly homogeneous group — typically one-to-two child families with stay-at-home mothers, and fathers working decent, if non-elite, jobs. Their lives were scrutinized by newspapers and aspiring residents alike.
So popular were the danchi that, during peak demand for them in the mid-1960s, Tokyo applicants with qualified incomes had only a one in 145 chance of winning the lottery needed to gain a tenancy, says Neitzel. The number of units built by the JHC was still a tiny fraction of Japan's new housing in the later the 20th century. But while most people never actually lived in a danchi, they set a national template as private developers adopted the JHC's construction methods and fixtures. The nLDK floor plan was soon ubiquitous. Plans that were initially experimental became standard practice within three decades.
But the experiment also revealed unintended consequences. Women's initial euphoria over the DK was succeeded by a sense of confinement, stuck at home while husbands left to work in the city. With new suburbs still somewhat empty, there was little for  danchi wives to do beyond housework, which took less time than ever before. The liberation promised by privacy also gave way to isolation and lack of community. The danchi left little room for gatherings, either inside or outside the home, making it difficult to form relationships with neighbors. Long commutes, especially for newer danchi, diminished their appeal.
As housing shortages eased from the mid-1970s, danchi construction trailed off and the JHC shifted to urban renewal. The makeup of Japanese families also began to move away from the danchi ideal. Many Japanese were marrying later, living alone or remaining childless. In the other direction, greater affluence meant that larger families expected bigger homes — and the habit of acquiring larger furniture and appliances that the danchi themselves had encouraged meant they quickly started to feel small and cramped, too. This provoked a fall from favor, a trend exacerbated by  distant locations and, in a country which often prefers new construction to renovation, their increasing dilapidation.

This has led to widespread demolitions in recent years. Some, however, have been renovated to make them more modern, suitable to a variety of lifestyles and senior friendly. Akabanedai Danchi in north Tokyo, completed 1962, has been almost entirely reconfigured— with the exception of a few of its iconic star buildings now registered as cultural monuments. The new buildings, completed in 2010, more closely resemble the interior configuration of the typical "mansion", as modern apartments buildings at least three stories high are called. What the refurbished danchi have that mansions don't is more surrounding open space and greenery — a rarity in Tokyo. Retailer Muji also teamed up with semi-governmental rental housing organization (and JHC's successor) Urban Renaissance Agency in 2012 to renovate danchi interiors, developing floor plans with greater flexibility and newer fittings such as fold-up desks, in contrast to the rigid layout of early danchi.

Some danchi renovations are going yet further, boosting a community feel by remodeling public spaces around the units. The Yokodai Danchi renovation project in Yokohama, led by renowned architect Kengo Kuma, is once again trying to put these complexes at the forefront of contemporary and provide a model for the future. The Future of Housing Complex Project built a sunken garden, new lawn, cafe and library to add green space and community life not found in most urban settings. Tokyo's danchi may have been built for starkly different conditions from those in today's Japan, but there's clearly some life in the form yet.