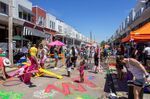 On July 5, 1976, Philadelphia capped off the nation's bicentennial celebrations not with flags and fireworks — all those grand displays were held on the 4th — but with play. Frisbee Golf on Winter Street. Paper airplanes at Logan Circle. Kid-sized pick-up sticks at 20th and Parkway. Music was provided by a giant xylophone and kazoos on Park Town Place and a Jamaican steel band at 22nd Street.
This grand day of play was organized by Bernie DeKoven, a game designer and "fun theorist" who believed "being at play together is being in flow together," quoting psychologist Mihaly Csikszentmihalyi, known for his theory that humans are happiest in a state of absorption within an activity. Given the right environment, given permission to join in the fun, humans have the ability to "form play communities."
After more than a year of closed schools, shuttered playgrounds, canceled sports and called-off birthday parties, the idea of a "Playday on the Parkway" like Philadelphia's or, better yet, many play days on many parkways, sounds like just the sort of freedom and collective boost our children need. If it was a sign of patriotism in 1976 to open the streets and parks to fun, the symbolism would be even more powerful now. Let the children — not the cars, not the delivery trucks, not the Zooms — find their flow. Let's declare this the Summer of Play.
In story after story about the crushing burden the pandemic has placed on mothers, the solutions offered have tended toward policy and the economy — paid leave, child care subsidies, men doing their fair share. But truly family-friendly policy needs to confront the way the country allocates public space, not just public funds. Locked playgrounds became a visible flashpoint during a period when the safest place to congregate was outside, but walling children off from the outdoors is really the project of decades, not a single year.
Tim Gill, author of the new book Urban Playground: How Child-Friendly Planning and Design Can Save Cities, told The Guardian that lockdowns have led to an "extreme acceleration in what's been happening to children's lives for the last 50 years: the total erosion of their everyday freedoms. I really hope the pandemic will be a wake-up call for people to see the broader impact of this form of incarceration that children have been living with for decades."
Children need their playgrounds back, certainly, but they also need access to all that open space, primarily occupied by cars, right outside their front doors. That's where a more organic "play community" can flourish, one that teaches children lessons of self-determination and independence, and one that, with community and public investment, could require less investment of time and attention by overburdened parents while providing much-needed activities for youth. Play is also only possible in neighborhoods where residents already feel free from violence and surveillance — equity issues which need to be addressed first.
There is a window of opportunity here, as temperatures and vaccination rates rise, to keep the public gains communities have made in reclaiming the streets for walking, biking and dining, and extending them more explicitly to play.

Philadelphia, which has had a Playstreets program for more than 50 years, provides a good model. The city has more than 300 participating streets across the city each summer, each with a volunteer supervisor who closes the street to traffic weekdays from 10 a.m. to 4 p.m., with daily meals and snacks. During the summer of 2020, 50 of those Playstreets morphed into something bigger: a free, distributed summer camp, with food and activities for kids, jobs for teens and young adults in the city's summer workforce program, and fun for the whole community in the form of chalk, music, water and ice cream.
"A month into the pandemic, we started to panic," says Philadelphia Parks & Recreation Commissioner Kathryn Ott Lovell. "Kids were home from school, it was a dire and depressing time." The Parks & Recreation department's summer camps, which typically serve 10,000 kids, could only accommodate 2,000 with social distancing regulations in place. And yet: "You can't cancel summer for kids, you just can't. There has got to be a safe way for us to save summer for the kids of Philadelphia."
One hundred and ten camps did open, and the department saw one Covid case all summer. Meanwhile, Playstreets served the thousands of kids who couldn't go to the camps. Volunteers running the streets received a series of kits, funded by the Knight Foundation and 12 other groups, including the city's pro sports teams. Separate kits contained a variety of balls, art supplies, and cooling tools like Super Soakers (the city ordered 20,000), misting tents and a patio umbrella. Fifty so-called Super Streets, selected with an eye to neighborhoods with the most need, got daily staffed programming. "Every Friday those streets had a dance party," Ott Lovell says. "We called upon the network of local DJs who all needed work, had a local vendor come and we paid them to hand out free treats." Playstreets of Wonder worked literacy and math activities into the outdoor play, with book wagons and arithmetic lessons incorporated into active games.

Even as educators catalog the learning losses from this year of remote and hybrid schooling, it's important to remember that kids still need a vacation, and still need one another. New York City's just-announced Summer Rising program has been billed as "summer camp and summer school … rolled into one," and will be run jointly by the Departments of Education and Youth and Community Development. Research has long suggested that playful learning does more for children than rote practice, particularly in community settings. Programs like New York City's, or Tennessee schools' space-theme summer camp, could put the social and the physical first, as Philadelphia did in 2020.
For Summer 2021, Philadelphia plans to build on its prior efforts, adding new playful learning programs thanks to the William Penn Foundation and the Free Library of Philadelphia. "The lack of social interaction these kids have had is devastating," says Ott Lovell, who is also the mother of a second grader and an eighth grader. "They need to have fun and play, but if there can be an educational component that's great."
Other organizations in other cities were also already equipped for play in the streets. Street Lab, a New York-based nonprofit, has done more than 60 pop-ups at 15 different locations in three boroughs since last July, both in the public spaces of NYC public housing and on the city's Open Streets — sections of road limited to car traffic via temporary barriers. Street Lab brings child-centered programming to those newly pedestrian-friendly spaces: PLAY offers a no-touch obstacle course; Street Marker brings out the big chalk and tools; Learning Hubs offer homework help. "We're outfitting a small cargo can van stocked with our PLAY program equipment, so that we can support Open Streets with programming on a daily basis, creating a circuit through the city all year," co-founder and executive director Leslie Davol wrote in an email.
In Chicago, Maya Bird-Murphy had a similar play-anywhere idea. She's the founder and executive director of Chicago Mobile Makers, a truck that's now become a mobile design studio, which first hit the road in June 2020. "We knew that we wanted to do something over the summer," she says, "and we thought if we were outdoors, people would engage with us." So Bird-Murphy parked in plazas and popped up at community gardens, offering kids take-home kits with art supplies and Play-Doh, plus the opportunity to build on the blacktop with big colorful acrylic shapes. She kicked off the 2021 season in April, and already has multiple events planned with the Elmhurst Art Museum to bring their collection out into the community. "I keep going back to mental health. That's the gap I hope to fill this summer," she says. "It is less about education and more about fun and play."
Play streets already happened organically in some suburban places during the pandemic. Meghana Joshi, an architect based in Irvine, California, told me in an email that, "Pre-pandemic, most of the children spent their day being shuttled from school to arts to sports to debate to academic tutoring, barely giving them unplanned time to spend in the neighborhood." During the pandemic, that all changed. Dead-end streets ringed with garages through which cars used to breeze have become common play areas, with homemade "kids at play" signs. The homeowners association, which used to send letters discouraging chalk art, has given up.
"With the garage doors open and some of the parents housed in the garage for remote working, there is general supervision," Joshi writes. "Activities are not planned, but toys are shared between children. Evening walks in the neighborhood these days look like chalk festivals, with kids drawing on the asphalt for entertainment. There are bicycles and Razor scooters left on the sidewalk by tired children." Different courts have taken on different personalities, with kids sorting themselves by age.

It's hard to gauge how many American cities have created more opportunities for urban play during the pandemic, though the University of North Carolina's Pedestrian and Bicycle Information Center has been tracking public space responses to Covid-19 worldwide. When Janette Sadik-Khan and Seth Solomonow argued, in The Atlantic, that the pandemic "revival of street life" was imperiled by the return to normal, it was striking how few of their examples were child-centered, though safer walking and biking options certainly benefit the whole family.
Other proposals miss an important public element about play. When The New York Times ran a "help working mothers" story, it did indeed include suggestions for bolstering public space through pedestrian streets and kid activities in the park. But it placed those ideas under its section on how "individuals" can help rather than the one on what the government should do, subordinate to suggestions that fathers and friends should take the kids out. We will need public support to make these ideas work for everyone.
Children chalking rainbows or playing with giant pick-up sticks shouldn't be vulnerable, and their new freedoms shouldn't be temporary either. If cities open their streets to play now, in a time when so many structures have crumbled, maybe families can keep that freedom forever. What about Five Fridays of Play in July, where communities choose a street for daytime, child-centric fun, partnering with city agencies or nonprofits to bring out the obstacle courses, the kid-size blocks, the water balloons, the bouncy castles? Adding bigger elements like dumpster pools would be an even more impressive bulwark against encroaching cars.
One of the reasons the Playday on the Parkway is such an appealing example, even after 45 years, is that DeKoven managed to package play as one of the United States's enduring freedoms. Collaboration, community, fun — these aren't just things that are nice to have, but necessities for children's growth and development. This summer, let the blacktop bloom with thousands of chalk flowers, watered by thousands more Super Soakers.