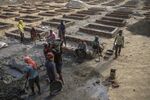 Covid May Have Claimed as Many as 5 Million Lives in India
Multiple studies show the nation's virus carnage is vastly underestimated, drawing repeated denials from Modi's government.
India's actual death toll from Covid-19 could range between 1.3 million to a staggering 5 million, with even the most conservative estimate putting its tally at more than double the U.S., the highest recorded in the world so far.
The numbers, derived from research models and local authority data, range from three to 10 times the country's official count, adding to evidence that the true cost of India's outbreak has been massively under-reported.