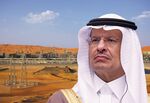 The Saudi Prince of Oil Prices Vows to Drill 'Every Last Molecule'
Abdulaziz bin Salman, the most powerful man in petroleum, navigates unruly OPEC+ nations, huge swings in price and production—and the end of fossil fuels.
The Boeing 767 banked over the Red Sea, turning east into Saudi Arabia. A commercial version of the plane can carry about 260 passengers. Inside this one, Saudi Energy Minister Prince Abdulaziz bin Salman and a dozen or so aides were heading home from a tumultuous meeting at OPEC's headquarters in Vienna the day before.
For most of the journey, the jetliner had followed its expected route over Eastern Europe, the Mediterranean, and Egypt. It was a path that Abdulaziz had flown scores of times. As oil minister since 2019 and a royal understudy before that, he'd attended almost every OPEC meeting over the past 35 years.