Finance
Is This the Climate Fight's Tipping Point?: Theme of the Week
Here's what led Bloomberg Opinion coverage this week.
By
Is This the Climate Fight's Tipping Point?: Theme of the Week
Here's what led Bloomberg Opinion coverage this week.
By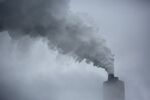 Last week, BlackRock Inc. Chief Executive Officer Larry Fink made quite an announcement: His company would begin moving away from thermal coal investments, a clear sign that the world's largest asset manager is taking climate change seriously. BlackRock is hardly the first firm to consider environmental, social and governance factors in its portfolio; sustainable investing, which takes into account the risks of global warming and its effects on companies' assets, has been gaining steam in the past few years. But the moment didn't slip past Bloomberg Opinion writers, who took a look at what these moves mean for economies, markets, "green" companies and the future of climate itself.
BlackRock's Climate Activism Has a Passive Problem — Mark Gilbert
Fink, Frackers and Putting the 'G' in ESG — Liam Denning
BlackRock's New Morality Marks the End for Coal — Nathaniel Bullard
BlackRock Muddies the Social-Investing Waters — Nir Kaissar
Don't Write Off Vice Stocks in This Virtuous Market — John Authers
BlackRock Has Green Plans — Matt Levine
How to Calculate a Bonus That Everybody Loves — Chris Bryant
A Wind Power Pioneer's Hard Lesson on Startup Funding — Liam Denning
The Energy Industry Should Stop Fighting Methane Rules — Fred Krupp
Jamie Dimon's Good Works Shouldn't Be Hidden — Chris Hughes
This is the Theme of the Week edition of Bloomberg Opinion Today, a roundup of our top commentary published every Sunday. New subscribers to the newsletter can sign up here.
To contact the editor responsible for this story:
Tracy Walsh at twalsh67@bloomberg.net