Technology & Ideas
Stop Coronavirus? We Can Barely Even Diagnose It
A surge in new cases shows how inadequate our tools are.
By
Stop Coronavirus? We Can Barely Even Diagnose It
A surge in new cases shows how inadequate our tools are.
By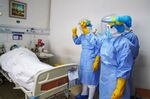 This is Bloomberg Opinion Today, a contested convention of Bloomberg Opinion's opinions. Sign up here.
Today's Agenda

There's Got to Be a Better Way (to Diagnose Coronavirus)
Just a few days ago we wrote that the coronavirus now known as Covid-19 keeps finding ways to surprise. It delivered a nasty one today. 
China added nearly 15,000 new cases to its reported totals in Hubei province after using new diagnosis methods. As Max Nisen writes, the standard way to confirm a patient has the disease is slow and misses infections in early stages. That different diagnostic tools turned up so many more cases — raising the total in Hubei by 45% — is troubling, to say the least. It also highlights just how little the world is prepared to quickly diagnose a fast-spreading epidemic, Max writes. The problem is, there's not enough profit for the drug industry in building these diagnostic muscles, so they atrophy. Governments, NGOs, philanthropists, Kickstarters, whatever — somebody has to pour some money into this ASAP.
Although U.S. markets continue to be blissfully whatevs about the disease, it's having real economic impact. China's huge Swiss Army knife of a company, Alibaba Group Holding Ltd., this morning warned of grim numbers ahead for its biggest revenue engines. As Tim Culpan notes, these engines were sputtering even before the virus hit. The disease is also a risk for pan-Asian banks in Singapore and elsewhere, Andy Mukherjee reminds us. Those include HSBC Holdings Plc, Standard Chartered Plc and Citigroup Inc.
Central bankers around the world have their eyes on the disease, but aren't all leaping into action just yet. Many confess they're still baffled about what the impact will be, notes Daniel Moss — which is preferable, really, to excess confidence. Because the surprises just keep coming.
For Sale: Tesla Stock, $800 Cheap
Wall Street's biggest Tesla Inc. bull is ARK Investment Management founder Catherine Wood. She has a 2024 price target for Tesla shares of $7,000. From that perspective, Tesla's upcoming stock sale, announced this morning, could be a bargain even at $800 a share.
From the perspective of recent history, though, anybody buying Tesla now is jumping in at the top of a parabolic run:
On its face, Tesla selling stock at this juncture is just a painfully obvious thing to do, writes Matt Levine. It is somewhat out of step with stock-market fashion of the day, which is to buy back shares almost exclusively. But selling high is a pleasantly retro and normcore move for this often, let's say, unconventional company. 
Less reassuring is that the sale comes just two weeks after founder Elon Musk dismissed the very thought of Tesla selling more stock. The announcement also came with a financial filing that revealed slowing U.S. sales and cash flow that relied heavily on one-time booster shots. As Liam Denning notes, the company is priced like a hyperactive unicorn, but spends like an old-fogey car company. Maybe this is not unrelated to its need for more more cash.
Democrats Not Yet Fully in Disarray
With Bernie Sanders surging and a pack of centrists close at his heels — including Bloomberg LP founder Mike Bloomberg — the odds of the Democratic Party having a contested convention this summer are rising. It would be chaos, writes Jonathan Bernstein, but there are many safeguards to prevent such a thing, up to and including simply yelling at lagging candidates to get out of the race already. 
Bonus Politics Reading:
It's Boris Johnson's Government Now
Boris Johnson's finance minister Sajid Javid quit today after a dramatic fight with his boss over onerous new conditions placed on his employment. Johnson reportedly didn't expect him to quit, but Javid's departure gives him what he really wanted, writes Therese Raphael: total control over the government. This is probably a recipe for even more deficit spending.
Further Brexit Reading: British financial firms aren't enjoying the U.K. playing hardball on EU regulations. — Lionel Laurent 
Telltale Charts
Natural gas prices are supercheap and will just keep getting cheaper as the coronavirus and new supply hit Asia, writes David Fickling. 

Before T-Mobile US Inc. and Sprint Corp. wrap up their merger, they may want to renegotiate the terms, write Alex Webb and Tim Culpan. That's because the wide gap in their recent performance makes the deal more expensive for T-Mobile, ironically.

Further Reading
BP Plc's goal of carbon neutrality by 2050 is noble. Now it just needs to show us the details. — Liam Denning 
Barclays Bank Plc has a Jeffrey Epstein problem, and it's not just CEO Jes Staley, Epstein's former acquaintance. The board hasn't been as transparent as it could be. — Elisa Martinuzzi
Masayoshi Son and SoftBank Group Corp. weirdly seem less than eager to talk about activist investor Elliott Management. — Tim Culpan 
Kraft Heinz Co.'s newish CEO must reveal his plan for righting the ship. — Tara Lachapelle 
The "Parasite" Oscar win is the latest milestone in South Korea's stunning rise from poverty. — Noah Smith 
Boeing Co.'s struggles are well-known, but rival Airbus SE has its own troubles, mainly with turning orders into cash. — Chris Bryant 
The middle class doesn't need another tax cut. — Jared Dillian 
ICYMI
Trump and John Kelly are feuding.
The biggest fan of Trump's steel tariffs is suing over them.
Daniel Loeb's 200-foot yacht damaged a coral reef in Belize.
Kickers
Locusts have invaded East Africa. (h/t Alistair Lowe)
Scientists find turtle fossils as big as cars. (h/t Scott Kominers)
Today is for Amy (Klobuchar). (h/t Joe Nocera)
Facebook quitters report more life satisfaction, less depression.
The argument for enjoying mediocre sports teams.
Note: Please send yachts and complaints to Mark Gongloff at mgongloff1@bloomberg.net.
Sign up here and follow us on Twitter and Facebook.
To contact the editor responsible for this story:
Stacey Shick at sshick@bloomberg.net