Business
Warren Buffett Saw This Home Depot Deal Coming
Home Depot is reacquiring HD Supply, a unit it sold 13 years and several deals ago. As Buffett knows, that's the way it often goes.
By
Warren Buffett Saw This Home Depot Deal Coming
Home Depot is reacquiring HD Supply, a unit it sold 13 years and several deals ago. As Buffett knows, that's the way it often goes.
By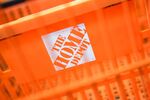 To get Brooke Sutherland's newsletter delivered directly to your inbox, sign up here.
What goes around, comes around — especially in the world of M&A and spinoffs. 
Earlier this week, Home Depot Inc. announced it was acquiring HD Supply Holdings Inc. — a distributor of maintenance and repair products including cleaning materials, faucets and air conditioners — for an enterprise value of about $8 billion. It's a noteworthy bet on a company that gets a large chunk of its revenue from hotels and senior-living centers, especially given how hard the pandemic has hit those markets. But what really makes this transaction interesting is these two companies' intertwined history and the dealmaking itself.
The HD in HD Supply actually stands for Home Depot. Under former CEO Bob Nardelli, Home Depot built the wholesale industrial supply business through the acquisitions of 38 companies worth as much as $8 billion, according to 2007 estimates from Stifel Financial Corp. analysts. Shareholders — including the now deceased activist investor Ralph Whitworth of Relational Investors LLC — criticized the expansion as a distraction and urged Home Depot to focus on its retail stores, where it was losing market share to Lowe's Cos. Nardelli was eventually ousted amid an uproar over his pay package and his successor agreed to sell the HD Supply unit to a private equity consortium in 2007 for $10.3 billion. As the housing crisis deepened and a credit squeeze set in, Home Depot agreed to cut the sale price to $8.5 billion.
HD Supply went public in 2013; some three years later, another activist investor — this time Jana Partners — got involved in the company and encouraged management to consider strategic options including a breakup. Analysts from RBC and Bloomberg Intelligence questioned how much value the company could create by splitting up, arguing its share price at the time already reflected the worth of its parts. But in 2017, HD Supply agreed to sell its Waterworks unit — a distributor of sewer pipes, water-meter systems and manholes — for $2.5 billion. The buyer? Clayton, Dubilier & Rice — one of the firms that participated in the 2007 buyout. Jana since sold some of its HD Supply stake, but partner Scott Ostfeld sits on the board and the company continued its unwind. Earlier this year, the company sold its White Cap construction-supply business for $2.9 billion. The buyer? CD&R again.
And now, what remains of HD Supply is coming back to Home Depot. The professional-contractor supply business that was seen as a distraction in 2007 is now viewed as a strategic priority and a growth opportunity. Despite the pandemic, Home Depot is paying a healthy premium for this reunion: its $56-a-share bid represents a 19% premium to HD Supply's previous all-time high set in May 2019. It all has the feel of a rather elaborate merry-go-round, complete with massive fees for the army of bankers and lawyers that facilitated its repeated spins. I'm reminded of this passage from Warren Buffett's shareholder letter published in early 2015:
Investment bankers, being paid as they are for action, constantly urge acquirers to pay 20% to 50% premiums over market price for publicly-held businesses. The bankers tell the buyer that the premium is justified for "control value" and for the wonderful things that are going to happen once the acquirer's CEO takes charge. (What acquisition-hungry manager will challenge that assertion?) A few years later, bankers – bearing straight faces – again appear and just as earnestly urge spinning off the earlier acquisition in order to "unlock shareholder value." Spin-offs, of course, strip the owning company of its purported "control value" without any compensating payment. The bankers explain that the spun-off company will flourish because its management will be more entrepreneurial, having been freed from the smothering bureaucracy of the parent company. (So much for that talented CEO we met earlier.) If the divesting company later wishes to reacquire the spun-off operation, it presumably would again be urged by its bankers to pay a hefty "control" premium for the privilege. (Mental "flexibility" of this sort by the banking fraternity has prompted the saying that fees too often lead to transactions rather than transactions leading to fees.)
Buffett wasn't talking about Home Depot and HD Supply, but the description is uncanny. I'm sure that proponents of corporate simplicity will argue that neither Home Depot nor HD Supply could have been as successful if they had stayed combined; perhaps that's true. But we will never really know, will we? The world hasn't changed so much that the opportunities Home Depot sees in HD Supply today couldn't have existed a decade ago.
Read more: Home Depot Bets $9 Billion on Post-Covid Life: Brooke Sutherland
It does make you wonder if after so many breakups in the industrial sector, we could see other reunions. The degree to which manufacturing executives have been preaching the value of customer and geographic diversification in the face of the pandemic has been striking. "It is important to highlight that the balance and market diversity and stability of our two-platform business portfolio was critical to enabling the strong operational cash flow outcome," Emerson Electric Co. director of investor relations Pete Lilly said on a call this month to discuss quarterly results. "Our attractive portfolio and the diversity of our backlog provide a strong foundation for long-term success," Boeing Co. CEO David Calhoun said in October. Perhaps the industrial conglomerate isn't as dead as we thought.
The Max Is Back
After 20 months on the ground, Boeing Co.'s 737 Max was finally cleared by the Federal Aviation Administration to resume commercial flight. It was a poignant moment — not least of all for the relatives of the 346 people who died in the two fatal crashes of the Max, which sparked a top-to-bottom probe of the plane. Some of these family members continue to cast doubt on the Max and call for greater penalties for Boeing. About 25% of Southwest Airlines Co. passengers surveyed have indicated they aren't comfortable with boarding the plane but expect to feel better about it after the Max has been flying for a while, a spokesman told Reuters. In a weird way, at least from the perspective of convincing passengers the Max is safe, the pandemic may actually help Boeing. Most people aren't inclined to get on any airplane right now. By the time we are flying more regularly again, the Max is less likely to be front and center on passengers' minds and will have at least some flights to show for itself. The House of Representatives this week passed a bill that would add more guardrails to the FAA's relationship with the companies it oversees and the Senate Commerce Committee signed off on a similar proposal. Let's all hope that whatever bill eventually emerges reduces the risk of a crisis like this happening again. 
Of course, the pandemic is also terrible for the Max. The FAA's action at least makes it theoretically possible for Boeing to start making money off the 450 Max jets it built during the grounding period, but airlines aren't eager to take them. Underscoring that point this week, Southwest, United Airlines Holdings Inc. and American Airlines Group Inc. all warned of a weakening in demand and an uptick in cancellations as coronavirus cases spike around the country. Those trends may worsen after the U.S. Centers for Disease Control and Prevention discouraged holiday travel this week. Airline executives haven't given up hope of more government stimulus, though. They re-upped their appeal this week with a letter to Congress that underscores the role that passenger carriers' cargo holds may ultimately play in distributing a coronavirus vaccine.
Deals, Activists and Corporate Governance
West Fraser Timber Co. Ltd. agreed to buy Norbord Inc. — the world's biggest maker of a plywood substitute — in an all-stock deal valued at C$4 billion ($3.1 billion). Wood products have been in high demand as stuck-at-home consumers think differently about their residences and splurge on new dwellings or renovate existing ones. The Norbord acquisition will help West Fraser capitalize on that demand, while also adding product and regional diversity that could help soften the blow in an eventual downturn. Norbord is 43% owned by Brookfield Asset Management Inc., which supports the deal.

ABB Ltd. is exploring a spinoff of its turbochargers unit and divestitures of its mechanical power transmission and power conversion businesses. Combined, the units generate $1.75 billion in sales. The unwind is part of CEO Bjoern Rosengren's plan to boost the Swiss engineering conglomerate's profitability and follows years of badgering from activist investor Cevian Capital for a more simplified structure. ABB's investor day on Thursday fell a bit flat, though, and the company's shares dropped 3%. Cevian Capital managing partner Christer Gardell told Bloomberg News he found ABB's margin target for 2023 "underwhelming" and Bergos Berenberg analyst Dennis Koenig pointed to the risk that the divestitures dilute rather than boost the company's profitability. 

Polaris Inc. CEO Scott Wine is leaving the maker of snowmobiles and motorcycles after 12 years at the helm. He will now become CEO of European tractor maker CNH Industrial NV, which commands more than twice the market value of Polaris. When he joins CNH in 2021, Wine will be in charge of steering the company through a plan to split itself in two and spin off the Iveco truck business. Iveco has a joint venture with electrical vehicle startup Nikola Corp., which has been plagued by short-seller reports accusing the company of deception. Nikola has denied the claims. For their part, Polaris investors were sorry to see Wine go after he boosted shares by 300% during his tenure. The shares fell 6.3% on news of his departure. 

Another Danaher Spinoff? Bloomberg Intelligence analyst Joel Levington raises the question of whether Danaher Corp. could spin off its environmental business to become a pure-play diversified health-care company. Danaher has already spun off its Fortive Corp. industrial arm and the Envista Holdings Corp. dental business; earlier this year it completed the $21.4 billion acquisition of General Electric Co.'s biopharmaceutical business to deepen its focus on health care and life sciences. This isn't an automatic value booster because peers in the environmental markets don't command as high of a multiple as Danaher does currently, but there may be a strategic logic to making these businesses independent, Levington says. Danaher could generate $3 billion by adding leverage to an environmental spinoff or sell it for an estimated $35 billion, he says, giving the acquisitive company ample firepower to consider its next deal. 

Private-jet SPAC. The owners of Flexjet — the second-largest provider of private-jet flights — raised $200 million in a public offering for special purpose acquisition company Zanite Acquisition Corp. The blank-check company will look to acquire an aviation business for as much as $1.5 billion over the course of the next six months. Private flights have been a relative bright spot amid the pandemic-fueled aviation slump this year, with traffic seeing comparatively small declines as those who can afford to avoid large airports do so. 

BONUS READING
Should Corporate Zombies Give You Nightmares?
There's More Lysol Than Ever, But It's Not Enough for the U.S.
Airlines Make Money Selling Anything But Tickets: David Fickling
Want More Infrastructure? Make It Cheaper to Build: Justin Fox
Is Everyone Back to Buying Cars? Think Again: Anjani Trivedi
Tesla's No. 1 Fan Works for Its Biggest Rival: Chris Bryant
All Those Used Delivery Boxes Are a Hot Commodity
Chewy Chases Record Year With Locked-Down Humans Pampering Pets
To contact the editor responsible for this story:
Beth Williams at bewilliams@bloomberg.net