Politics & Policy
Brace Yourself for the Next 11½ Months
2021 will be better than 2020, but the year's defining feature will be volatility.
By
Brace Yourself for the Next 11½ Months
2021 will be better than 2020, but the year's defining feature will be volatility.
By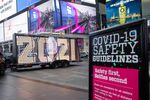 If you had expected 2021 to be a relief from the horrors of 2020, sorry: So far it's looking worse. Covid indicators, including deaths, are reaching new highs. The vaccine rollout has been badly botched. A violent insurrection, cheered on by the president, reached the inner sanctum of the Capitol.
The obvious question is whether bad news comes in waves, and so far the evidence seems to indicate that it does.
Consider bad economic news, which is relatively unambiguous. With stock market returns, volatility is correlated over time, and it is higher in bear markets. To some extent the bad mood is contagious, and the bad events behind the volatility may be interlinked as well.
To be clear, the stock market has done fine lately. The latest bad news is about politics and public health, not corporate earnings. Still, the stock market is readily measurable and can offer clues about how broader social processes are connected over time — and one obvious conclusion is that volatility tends to feed upon itself, not usually in positive ways.
Much of the recent turmoil in America has been connected to the presidency of Donald Trump, and that will be ending soon. The associated volatilities, however, will not simply fade away. Trump's ascendancy was a symptom of other social processes already gone askew. Even when Trump leaves the scene, a particular group of irresponsible men is likely to continue as a source of domestic terrorism and unrest, and they will (to the extent they need to) find new icons. This problem seems to be intensifying.
And while social media seems to have a positive effect on interpersonal relations, it is difficult to deny that it helps to organize such protests and riots. That trend seems unlikely to disappear anytime soon, and it will fuel additional volatility.
Another problem is what my colleague Bryan Caplan has labeled "the idea trap." Social science research indicates that in troubled times people are more likely to turn to bad ideas. The distressed German economy of the 1920s and early 1930s, for example, helped to breed support for the Nazis.
More recently, the global economy has been very much a mixed bag since the financial crisis of 2008. So people might begin to embrace worse ideas, which in turn will breed subsequent volatility. Such a cycle can worsen over time, and a ragged recovery from the Covid-19 deep recession could exacerbate this dynamic. It simply isn't good for decision-making if everyone is feeling frazzled and stressed.
Another reason to worry about correlated volatility is Covid-19, not so much as a continuing concern but rather as a leading indicator. SARS-1 and MERS are behind us, and hopefully Covid-19 will soon be as well. But even if so, it seems that more people (and non-human animals) are vulnerable to coronavirus mutations. And so the current coronavirus pandemic is unlikely to be the last, and it may not even be the worst. While the vaccines have been wonderful advances, we do not have the capability to distribute them quickly or efficiently.
Speaking of those amazing scientific advances: They are yet another reason to expect correlated volatility to continue. For all the good news, there is also the risk that those innovations, including artificial intelligence and superior bioengineering, will be weaponized and turned into agents of chaos. The last major wave of innovation, in the early 20th century, gave the world jet airplanes, radio communication and nuclear power — all of which increased the destructive powers of humankind. Along those lines, it is not difficult to imagine cyberwarfare and biological agents being major problems over the next few decades.
Even in the absence of such violent outcomes, it is easy to see those innovations upsetting social relations and status more generally. People who have no ability to command the fruits of those innovations may feel like outsiders all the more, inducing them to further disrupt social order.
There is, thankfully, some good news: The rest of 2021 probably won't be nearly as bad as these first two weeks. Both an economic recovery and a turning point in the fight against Covid are in the cards. But we will not be able to relax for long, because some of the fundamentals are pointing in the direction of further volatility.
To contact the editor responsible for this story:
Michael Newman at mnewman43@bloomberg.net