Editorial Board
The Right Way for the U.S. to Engage the World Again
To revive relationships abroad, the Biden administration will have to act nimbly and creatively.
By
The Right Way for the U.S. to Engage the World Again
To revive relationships abroad, the Biden administration will have to act nimbly and creatively.
By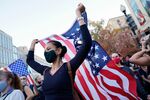 Joe Biden needs no reminder of the value of alliances. The incoming U.S. president, unlike his predecessor, appreciates that America's unparalleled network of partnerships strengthens its defenses, invigorates its economy, constrains its rivals, and preserves a world order friendly to U.S. values and interests. Biden has rightly declared that rebuilding those relationships will be among his top priorities in office.
America's friends will welcome a return to sober and principled U.S. statesmanship — but few will simply embrace Biden's agenda. Some will be content to see the U.S. bear the burden of confronting rivals such as Russia and China. Others, scarred by four years of Donald Trump, will look first to safeguard their own interests, as the European Union recently did in signing an investment pact with Beijing. U.S. competitors will seek to widen every crack between Washington and friendly capitals.
Biden's national-security team can start, to quote Biden's former boss, by not doing stupid stuff. Tariffs imposed on allies are self-defeating; Biden should lift them and stop targeting potential partners such as Vietnam for dubious trade violations. He should end pointless haggling over the costs of basing U.S. troops in Japan and South Korea. And he should listen — showing up at summits, and consulting allies on issues such as rejoining the Iran nuclear agreement or restricting Chinese technology.
Next, the administration should seek some quick wins. Biden has already said the U.S. will rejoin the Paris climate accord, renew the New Strategic Arms Reduction Treaty with Russia, end the so-called Muslim ban and resume U.S. cooperation with the World Health Organization. He should swiftly pursue other openings. Helping to finance the Covid-19 Vaccines Global Access Facility (Covax) is one. Coordinating with Europe on a joint approach to taxing carbon is another.
To build support on tougher issues, Biden will have to demonstrate a new commitment to multilateralism. Asian nations would be more likely to help contest China's trading practices if the U.S. opened its own markets as part of a new Trans-Pacific Partnership. Washington's push to rewrite World Trade Organization rules might gain more traction if the U.S. wasn't blocking the appointment of a new director-general and new appellate judges, effectively paralyzing the body.
New coalitions will be needed to address specific challenges. Pressuring allies into isolating China, for instance, won't work. Countries that fear China's military ambitions need access to its markets; those that deplore its human-rights violations need its help to combat climate change. Biden ought to be opportunistic, guiding like-minded groups to cooperate on particular issues — one to focus on technology, say, another to advance democratic norms, another devoted to trade reform.
Biden will have to open lines of communication to rivals as well as friends. The U.S. can't roll back the Iranian and North Korean nuclear programs without support from Russia and China. The same goes for new rules around space, cyberwarfare, artificial intelligence, the Arctic and a host of other issues.
Finally, where and how the U.S. disengages will be just as important as where it engages. Biden should be far more deliberate than Trump in withdrawing troops from Iraq and Afghanistan. He should also work to maintain funding and international support to prevent the collapse of their beleaguered governments.
To manage all this, the U.S. must invest in the right tools. Biden should revive and empower the State Department — hiring competent diplomats and giving them the resources they need. He should increase funding for agencies such as USAID and the U.S. International Development Finance Corporation, offering developing countries a path to prosperity that doesn't rely on Chinese debt. He should think of diplomacy more holistically, too, reaching out not just to presidents and prime ministers but to the mayors, business leaders and civic and environmental activists who are critical to solving problems on the ground.
In the end, Biden's biggest test on foreign policy will be at home. The new president must persuade Americans of something many have forgotten — that engaging with the world will add to, not subtract from, their country's security and prosperity.
—Editors: Nisid Hajari, Clive Crook.
To contact the senior editor responsible for Bloomberg Opinion's editorials: David Shipley at davidshipley@bloomberg.net .