Politics & Policy
Is Liz Cheney the New Newt Gingrich?
She's bucking her party's president, but's it's unlikely many Republicans will follow her.
By
Is Liz Cheney the New Newt Gingrich?
She's bucking her party's president, but's it's unlikely many Republicans will follow her.
By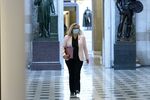 In opposing a president of her own party, Representative Liz Cheney has taken a lead role in a drama with eerie similarities to one of three decades ago. The question this time is whether she represents the future of her party or the past.
In 1989, the appointment of Representative Dick Cheney of Wyoming — Cheney's father — as Defense secretary left a vacancy in the Republican House leadership. Cheney was House minority whip, second to Minority Leader Bob Michel of Illinois. The campaign to replace Cheney was hard fought, and the winner (by a single vote) was a vituperative conservative backbencher from Georgia named Newt Gingrich.
The consequences of this close vote would become clear barely a year later. With the economy stalled, President George H.W. Bush agreed to a deficit-reduction deal with the Democrats who held majorities in the House and Senate. Problem: The deal required Bush to raise taxes, explicitly violating the "no-new-taxes" pledge that helped him win in 1988.
While the respective GOP leaders in the House (Michel) and Senate (Bob Dole) got behind their president, Gingrich led a political insurgency in the House. Correctly taking the temperature of his conference, he succeeded in getting a majority of House Republicans to vote against the package, despite Bush's pleadings. Combined with Democrats, who had their own reasons for opposing the deal, the legislation collapsed. It was later revived, but Bush's political fortunes never were.
More significant, in the House, Michel was humiliated. Gingrich became the de facto Republican leader, putting him on what would turn out to be a successful path to the speakership.
Now Cheney is challenging a president of her own party — but with much higher stakes and a much greater downside. It's a foregone conclusion that the majority of House Republicans will oppose impeachment. Unlike Gingrich, Cheney — who shares her father's hawkish and globalist instincts — is decidedly not where the conference's Trump-loving heart is.
So it's hard to say that Cheney's decision is the obvious tactical choice of someone who presumably has designs on the speakership (after all, she passed on an open Senate seat last year). What explains it? One possibility, of course, is that she believes she's doing the right thing. Her withering statement in support of impeachment — "there has never been a greater betrayal by a president of the United States of his office and his oath to the Constitution" — leaves no doubt where she stands.
Cheney may also be betting that videos of Trump loyalists assaulting a Capitol Police officer with a U.S. flagpole are ruinous to the GOP brand. Remember that Republicans made gains in the House last year partly due to running against progressives' ill-advised "Defund the Police" effort. And at least one new Republican member who ran on a pro-police message, Representative Nancy Mace of South Carolina, has also been vocal in pushing back against election-related conspiracy theories.
Finally, it's worth noting that, like her father, Cheney understands that Republicans respect decisiveness above almost all else. Not to put too fine a point on it, but in a party that seems to want to celebrate masculinity, Cheney is displaying some testicular fortitude. Compare her stance to that of House Minority Leader Kevin McCarthy, who early on hitched himself to Trump's wagon but has been all over the place on impeachment.
It's all but certain that a majority of House Republicans will not stand with Cheney on impeachment. Yet future historians are likely to look favorably on Cheney's stand. And who knows? A lot can change, and quickly, during these tempestuous moments in history.
To contact the editor responsible for this story:
Michael Newman at mnewman43@bloomberg.net