Markets
Corporate Cash Grab Flashes Warning for Bond Investors
Why would companies pay money to park money on their books when they can't even spend what they already have?
By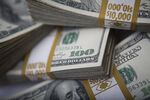 Big U.S. companies have record amounts of cash on their balance sheets, but they're still borrowing billions of dollars from debt investors that they won't have to pay back for decades. That's not necessarily good news for those investors.
Why would companies pay money to park cash on their books when they can't even spend what they already have? After all, cash on the balance sheet of S&P 500 companies is at an all-time high at around $2.7 trillion, according to Bloomberg Intelligence's Anurag Rana and Gina Martin Adams. Apple and Microsoft are buying billions of dollars of shares back because they don't have a better use for their cash.
They're thinking, "Let me get the cheap money while I can and then be flexible with it," said Joel Levington, Bloomberg Intelligence's director of credit research. "It creates optionality."
American banks are prime examples of this. They just reported some of the best quarterly profits ever. Yet suddenly the likes of JPMorgan Chase & Co. and Bank of America Corp. are selling more bonds than they ever have before.
The reason behind the bond binge doesn't bode particularly well for investors: Many large corporations are borrowing simply because they can. It's just so cheap that it's worth the gamble that these companies will eventually find a higher return elsewhere or that inflation will effectively make it cheaper to repay in the future.
Here are the numbers: Investment-grade companies have sold $189.7 billion of U.S. bonds maturing in 20 years or more so far this year, Bloomberg data show. That's on pace to be the second-most such debt for a year, only behind 2020, when they sold $625.2 billion of the notes, according to the data. Last week, bonds maturing in 10 years or longer made up more than two-thirds of total investment-grade supply, according to data compiled by Bloomberg, far above the average for the year of less than half of supply.
More of these companies are on the lowest rung of the investment-grade credit spectrum, and yet even still, all-in borrowing costs have dropped considerably. Corporations are paying less than 1.3 percentage points over benchmark rates to borrow for decades to come, close to the lowest spread going back to 2007.
This is problematic on two levels. Not only are investors earning a relative paltry amount, but they also have a shrinking cushion to offset rising rates. That's potentially a huge liability when investors are girding for more inflation and higher benchmark yields.
With such a small cushion against hiccups of any kind, lenders are probably getting the short end of the stick in the long run, particularly when it comes to buying longer-dated bonds. In some ways, this debt looks riskier than junk bonds, which are typically issued by companies that do better during the earlier parts of the economic recovery.
Indeed, a Bloomberg index of long-dated U.S. corporate bonds has plunged 7.1 percent so far this year, compared with a 1.9 percent gain on high-yield bonds. This divergence is poised to widen even as these top-rated companies report terrific earnings and huge stashes of cash.
For highly rated companies, on the other hand, it makes complete sense for them to borrow what they can. After all, they don't have a lot to lose. Investors, on the other hand, should have low expectations.
This column does not necessarily reflect the opinion of the editorial board or Bloomberg LP and its owners.
To contact the editor responsible for this story:
Daniel Niemi at dniemi1@bloomberg.net