Business
Where China Rules and the U.S. Dollar Reigns
Hong Kong is the focus of antagonism between Beijing and Washington but is most of the rhetoric simply diplomatic theater?
By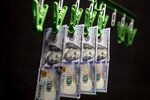 The Biden administration's business advisory on Hong Kong has generated more heat and light than appears justified by its contents. The fireworks may be a sign that the U.S. and China are content to let hostilities play out as diplomatic theater, and are reluctant to raise confrontation to a level that would meaningfully challenge the functioning of a key global financial center.
The nine-page statement mostly reiterates facts that are known: China's legislature unilaterally imposed a national security law on Hong Kong last year; the law has significantly reduced rights and freedoms; risks have risen for businesses and individuals, spanning areas including data privacy, transparency and access to information.