Politics & Policy
Olympics Roll Call Questions the Identity of Nations
The IOC runs its own diplomacy and has an entirely different approach on deciding who gets recognition.
By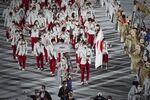 When the Olympic Games open Friday night in Tokyo with a global roll call, audiences will get a geography lesson that comes just once every four years. Schoolteachers use replays of the ceremony to instruct kids about the flags of the world, challenge them to find countries on a map, and ask which places they've even heard of. They'd be forgiven for getting a little confused.
Closer examination of what's called the Parade of Nations reveals a few surprising facts. As many as 207 flags could be marched into the Tokyo Olympic Stadium —  each followed by contingents of athletes wearing the national official uniform designed to represent the culture and background of their lands. At least three of those banners, to be on display through the Olympic and Paralympic Games, aren't even flown at home. By comparison, the United Nations recognizes just 193 states.

This dichotomy highlights the difference between the Olympic Movement and the global body that most see as the arbiter of international politics, inviting questions over the definition of nationhood and who gets to decide. The International Olympic Committee asserts "the sole authority" to recognize a National Olympic Committee, whose mission is to "develop, promote and protect the Olympic Movement in their respective countries." That means that territories like American Samoa, Puerto Rico, and the British Virgin Islands all have NOCs that let them stand at the same level in the Olympics as the countries overseeing them, in this case the U.S. or the U.K.