Markets
This Cult Classic Buy Signal Isn't to Be Trusted
Dividend yields have risen above bond yields again. It's hard to imagine that another historic rally in equities is ahead of us, though.
By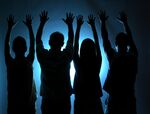 To get John Authers' newsletter delivered directly to your inbox, sign up here.
When I tried to go through the different ways to value stocks yesterday, I omitted the simplest of all: dividend yield. At least it's easy to measure, with no controversy, and it allows for a simple comparison with bonds. Look at the cash yields available, ignore all possible future risks, and buy whichever pays more. Amazingly, if you follow this rule now, that means purchasing stocks.