Business
What to Do When Haters Come Gunning for Your Brand
When displacement hits, are you a mouse or a mule?
By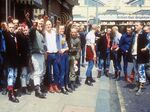 (Part two of a series on product displacement. For part one, see " Your Brand Has Never Been Easier to Destroy.")
Setting aside the staggering cynicism of the Senate Minority Leader, his suggestion is also absurd. That even the smallest companies can be slammed by political squalls is illustrated by two independent bakeries — one in Colorado, one in Northern Ireland — that became international causes célèbres after refusing to decorate cakes in celebration of same-sex marriage.