Editorial Board
What's Good and Bad in the Infrastructure Deal
Bipartisan agreement is welcome — but this kind of bill is no way to plan public investment.
By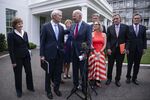 The infrastructure plan advanced by the Senate and White House last week was a rare instance of bipartisan cooperation — something so scarce in Washington these days that it's tempting to celebrate the proposal, regardless of its content, for that reason alone. Compromise is indeed indispensable for good democratic government. Sadly, this doesn't change the fact that the proposal is seriously flawed.
The deal provides for $550 billion in new spending — on shoring up roads and bridges, bolstering transit and waterways, and reducing critical maintenance backlogs. It includes new investments in clean energy, climate resilience, high-speed internet and more. Much of this investment is needed. Also to its credit, the plan dispenses with some bad ideas aired earlier during the negotiations, such as a new infrastructure bank.