Politics & Policy
Biden's Electric-Vehicle Target Is All About the Drive
Can he really electrify half the car market? It doesn't matter.
By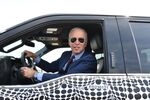 A certain school of thought holds long-term targets as meaningless, as the people making them will no longer be in their job by the time they are proved right or wrong. That's especially the case for a two-term limited U.S. president. But when it comes to Joe Biden and electric vehicles, it hardly matters whether his new target for 2030 pans out. The objective is to just put one's foot on the gas.
Biden is calling for half of U.S. vehicle sales to be electrified by the end of the decade. Last year, EVs made up 2% of the market. Bloomberg NEF's latest long-term outlook has them taking about a third of U.S. sales by 2030. So you might say JFK's moonshot speech was less ambitious.