Politics & Policy
This School Year Can't Be a Repeat of the Last
When it comes to the danger of Covid, America is still not thinking rationally about risk.
By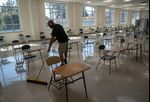 As the delta variant of Covid-19 spreads, many parents are worried that their public schools will not fully reopen this fall. That would be a serious unforced error — and the mere possibility of it is evidence that America is not thinking rationally about risk.
Granted, the issue is complicated, with different risk factors and behavioral expectations for kindergarteners compared to high-school students. And there are options between a pre-pandemic status quo ante and complete remote learning.