Finance
Millennials Should Beware of Rising Payment Apps
Younger consumers may be wary of credit cards. But "buy now, pay later" apps could encourage bad spending habits.
By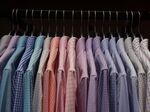 Earlier this week, the digital-payments platform Square Inc. said it agreed to acquire Afterpay, one of the main players in the burgeoning industry that lets online shoppers buy things immediately and pay for them later. If the deal goes through, buying clothing, jewelry, home goods and, yes, exercise bikes with installment payments is likely to become more widespread.
That's not necessarily a good thing for consumers.