Politics & Policy
Trump's Lawyers Can Be Inconsistent. Liberals Can't.
It may not be worth damaging the presidency to punish him for his Jan. 6 conduct.
By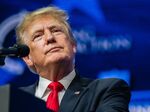 Lawyers are accustomed to dismissing the various arguments that Donald Trump has made in court over the years, or even laughing at them. His claim that he should be immune from lawsuits for his actions on Jan. 6 because he was exercising his official duties is a little different.
It needs to be considered seriously in the context of his impeachment, which depended on the view that his incitement of the mob was a "high crime and misdemeanor" — that is, an abuse of the office of the presidency. While it is not impossible to reconcile the belief that Trump abused his office on Jan. 6 with the proposition that he was acting privately, not in his official capacity, doing so isn't simple.