Finance
JPMorgan's Dealmakers Provide Cover for Idle Cash
As investment banking and trading normalizes at the bank, investors are going to want to see better deployment of the deposits it has attracted during the pandemic.
By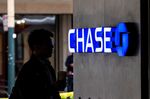 JPMorgan Chase & Co.'s investment bankers must be feeling a bit deflated. They just turned in all-time record quarterly revenue for advising on deals and one of the best results ever for total investment banking fees. And what do shareholders do? Sell the stock.
Truth is, this was kind of old news. JPMorgan's investors were looking for something fresher and more upbeat on growth in lending to companies and people from the bank's third-quarter results, which were released on Wednesday. There was no great disappointment, but the bank was probably more cautious in its outlook and expectations than many had hoped.