Business
Businesses Should Keep Ignoring Texas' Vaccine Mandate Ban
OSHA-fine avoidance isn't the only reason. Making employees and customers feel safe is kind of important too.
By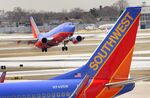 This is Bloomberg Opinion Today, a Golden Promise of Bloomberg Opinion's opinions. Sign up here.
It's easy to forget, but early in the pandemic, Texas Governor Greg Abbott took pandemic precautions seriously, shutting down schools, gyms and in-person dining and even imposing a statewide mask mandate. Right-wing Texans accepted these measures with stoic grace. Ha ha, no.