Technology & Ideas
Washington Is the Weak Link in Global Chip Supply Chain
An ineffectual and tardy approach to understanding the semiconductor shortage won't help the U.S. solve a global problem.
By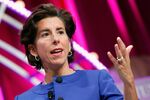 Plans to survey chipmakers and keep tabs on the supply chain to head off further disruption highlight just how disconnected the U.S. government is from the realities of a $500 billion industry that spans the globe. Instead, American diplomats would do well to work with allies to build an integrated real-time database that will last well beyond the Covid-19 pandemic.
A request last month by Commerce Secretary Gina Raimondo for semiconductor companies to detail their sales, products, technology and inventory was coupled with a threat that the White House might invoke a Cold War-era law to force them into submission. Such intimidation is counter-productive, and ruffled feathers in Taipei, Seoul and Beijing at a time when Washington needs to open lines of communication with other nations.