Politics & Policy
Coronavirus Lab Leak Theory Needs to Be Taken Seriously
Just because the conspiracy crowd is uninformed doesn't mean serious scientists should give the Wuhan Institute of Virology a pass.
By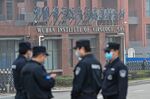 With so many conspiracy theorists embracing the view that the coronavirus escaped from a laboratory, it's tempting to dismiss the idea out of hand. But it's important to keep an open mind — because the possibility of a lab leak still exists, and needs to be investigated.
Serious people are demanding a closer look at the Wuhan Institute of Virology. There isn't much evidence that a lab leak was the origin of the pandemic, but neither is there much evidence for any other scenario. Though scientists recently found somewhat related viruses harbored by bats in Laos, this doesn't answer the key question of how the SARS-CoV-2 got into humans.