Technology & Ideas
Stop Playing Nice With Russian Computer Hackers
State-sponsored digital pirates aren't going away and need to be met with more coordinated and forceful action.
By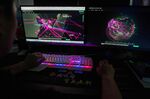 Russian hackers are still rummaging through global computer networks despite headline-grabbing Russian and Chinese attacks over the past several months that should have prompted corporations to tighten security and the White House to take more pointed and forceful action.
Sure, some companies have said they want to communicate better about digital breaches and the Biden administration slapped some mild sanctions on Russia last spring. Russia's response to this tepid pushback? Merriment, it would seem. Just imagine the chuckles in the Kremlin when operatives there see how nonchalant and feckless their targets have remained.