Technology & Ideas
Microsoft Could Again Unseat Apple as Most Valuable Company
A surge in cloud computing and steady demand for office productivity tools should propel the software giant for years to come.
By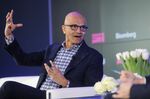 Microsoft Corp. is in the technology sweet spot. With another stellar quarter fueled by growth of the cloud computing business, the software giant is showing that it could have the best fundamental outlook among its tech giant peers.
The company said revenue totaled $45.3 billion in its fiscal first quarter, a jump of 22% from a year earlier and more than the $43.9 billion median estimate of analysts surveyed by Bloomberg. Profits also surpassed expectations. Microsoft's shares climbed as much as 2% in after-hours trading.