Finance
`Lie Flat' Can Be a Winning Investment Strategy Too
Life's not always fair, but skipping due diligence and research may be the way to go in picking through China's battered developers.
By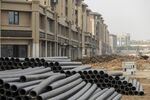 Sometimes, when you try too hard, you lose. But the "lie flat" approach to life, which rejects hard work in favor of doing as little as possible to get by, can even provide profits while reducing your stress.
As the year draws to a close, the number crunchers are left struggling to explain to their investors why they missed out on trades that generated big wins for those who were more laid-back when it came to due diligence. But no one said life was fair.