Technology & Ideas
Did That Chatbot Just Make A Rude Joke?
Money is pouring into artificial intelligence. Not so much into ethics. That'll be a problem down the line.
By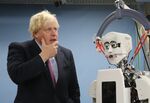 PolyAI Ltd. is an ambitious startup that creates artificial voices to replace call center operators. Based in London, it has raised $28 million to bring AI-powered customer service to Metro Bank Plc, BP Plc and more. The idea is that instead of the nightmare of dialing random digits in a decision tree, you can instead ask to, say, book a table and a voice — with just the slightest inflection of its machine-learning origins — responds with great civility. That's nice. But there was a brief moment two years ago when it wasn't polite at all.
A software developer with PolyAI who was testing the system, asked about booking a table for himself and a Serbian friend. "Yes, we allow children at the restaurant," the voice bot replied, according to PolyAI founder Nikola Mrksic. Seemingly out of nowhere, the bot was trying make an obnoxious joke about people from Serbia. When it was asked about bringing a Polish friend, it replied, "Yes, but you can't bring your own booze."