Finance
Leverage on Leverage Is Big Danger for Investors and Their Lenders
The decision by Calpers to use borrowed cash to boost returns shows how everyone is taking more risk to make a buck.
By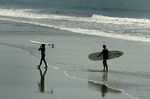 There's already too much money chasing too few assets and yet even the most sober investors seem ready to add to the problem.
Calpers, the $495 billion California public-employee pension fund, is planning to put more money into chasing returns by taking on debt worth up to 5% of its fund value — or roughly $25 billion — to plow into financial assets. It is doing this because it can't see another way of hitting its long-term return target of 6.8% to meet its promised payouts.